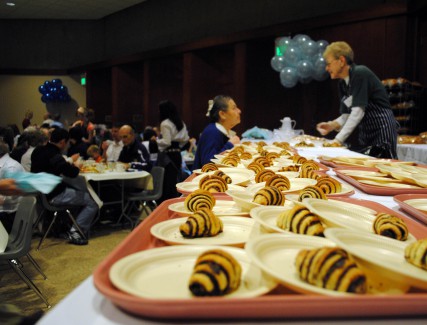 This year Temple Beth Shalom's annual Kosher Dinner happens to fall at a time when the country has seen a sharp uptick in anti-Semitism. The timing, Rabbi Tamar Malino said, emphasizes the need for outreach.
"There's a need for more multicultural understanding, which is the whole tenor of the event," she said.
The Kosher Dinner will be Sunday from 11 a.m. to 5 p.m., just days after hundreds of headstones were overturned, broken or defaced at Jewish cemeteries in Philadelphia and St. Louis. Since Jan. 1 there have also been at least 116 bomb threats against Jewish organizations across the United States, including one against the Mercer Island Stroum Jewish Community Center last week.
Malino said these events have the congregation on edge.
"It's very real in a way that it hasn't been before, even when we had a swastika on the building. For there to be bomb threats all across the country, and in Seattle, it's very sobering," she said.
She said the recent anti-immigrant fliers in Spokane, promoting the hate site The Daily Stormer, is also concerning.
"Part of me, as a Jew in Spokane, wonders when we're going to get hit," said Dr. Hershel Zellman, who attends TBS and volunteers at the Kosher Dinner.
The synagogue has security measures in place, but Malino said what will also help the congregation feel secure is people turning up for the Kosher Dinner to show their support for the Jewish community.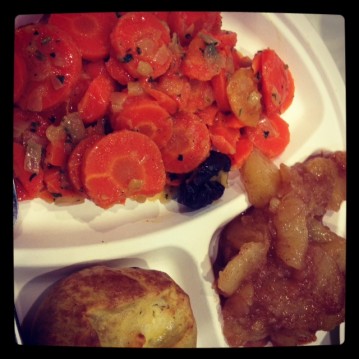 "I think it means a lot. In times of distress and in times of relative security and comfort, it always means a lot," she said.
Zellman said the event is a time to celebrate Spokane's diversity, adding that the entire congregation works hard to put on the event — which includes entertainment, conversation and traditional Kosher food.
"We're hoping people of all cultures and religions will come out and participate," he said. "It would be wonderful if the community would turn out to help support us."
This will be the 75th annual Kosher Dinner. Last year's event had to be canceled because of an issue obtaining fresh brisket. Typically 1,500-2,000 meals are served at the event.
And although Malino said she hopes for another successful Kosher Dinner, she said the fight against anti-Semitism continues outside the synagogue walls by standing against racism and stereotypes in ever day conversations.
Tickets for the Kosher Dinner are $15 in advance or $17 at the door, and $10 for children. Advanced tickets can be purchased online. This year's menu includes beef brisket, potato knishes, carrot tzimmes, spiced apples, apricot kuchen and challah. Take out is available.
If you appreciate this article, will you consider making a donation so FāVS can continue this type of storytelling?