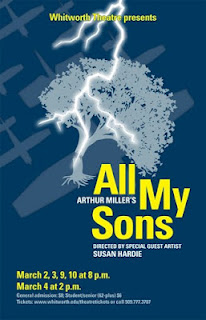 Whitworth Theatre will present its spring production, Arthur Miller's "All My Sons," beginning Friday.
"All My Sons" is a powerful condemnation of greed and its associated lack of moral responsibility. The play takes place in post World War II middle-America and tells the story of Joe Keller, a successful, self-made family man who has done a terrible and tragic thing.
Written by famed playwright Arthur Miller, "All My Sons" debuted in 1947 on Broadway at New York City's Coronet Theatre, where it ran for 328 performances. The same year, the show won Broadway's Tony Award for Best Author (later to be called Best Play). The play has since been adapted into two films, in 1948 and 1987, as well as into adaptations for radio and television.
Broadway revived the show in 2008, and more Broadway performances of the play have been produced nearly every year since.
Miller's other popular plays include "Death of a Salesman" (1949), "The Crucible" (1953), and "An Enemy of the People" (1950), based on Henrik Ibsen's play of the same name.
"'All My Sons' has as much to say now as it did back in 1947, when it first premiered," said Susan Hardie,the play's guest director. "While America still grapples with issues of war and economic depression, the play's themes of morality and conscience resonate in this age of unchecked greed and lack of accountability. Miller's rich and complex characters are both challenging and rewarding for young actors, and I am thoroughly enjoying my work with this talented cast and crew."
This is Hardie's directorial debut at Whitworth. The recent retirement of theatre department chair Rick Hornor opened up space to invite occasional guest directors into its directing rotation, said Diana Trotter, professor of theatre and the department's current chair.
"We think it's a great opportunity for students to work with directors outside the department so they are exposed to different styles," she said.
Performances will be at 8 p.m. Friday and Saturday, and 2 p.m. Sunday, and at 8 p.m. March 9 and 10 in Cowles Memorial Auditorium on Whitworth's campus. General admission is $8; $6 for students, children and senior citizens age 62 and over. Tickets may be purchased at the door, in advance by calling the theatre box office at (509) 777-3707, or online atwww.whitworth.edu/theatretickets.