The MLK Day Annual Unity Rally and March had a tense start Monday morning when Rep. Cathy McMorris Rodgers (R-Wash) spoke to a massive crowd at the Spokane Convention Center, calling for the need to heal divisions and fight racism by coming together.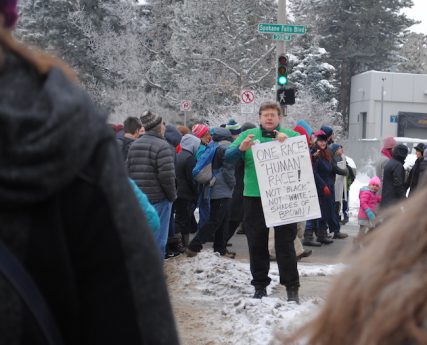 The crowd responded to McMorris Rodgers by booing her off the stage and chanting, "Save our healthcare!"
On Jan.13 she released a statement calling for the repeal of Obamacare.
Freda Gandy, executive director of the Martin Luther King Jr. Family Outreach Center, scolded the audience for the protest, noting that children were watching and not aware of the politics involved. She asked attendees to be a unifying force by following King's example. This upset some, who said peaceful resistance was part of King's legacy.
The event continued with Rev. Happy Watkin's traditional rendition of King's "I Have a Dream" speech before the crowd — probably close to 1,000 people — together paraded through downtown Spokane.
Rev. Chris Snow of North Hill Christian Church was glad so many people came out, faced the cold and participated in the rally and march.
"It's important to come together as a community and uplift those things that unite us as a community," he said. "Martin Luther King was a prime example of that."
A November Gallup poll reported that 77 percent of Americans view the country as being divided over key values — an all-time high. That same poll showed the United States is split on whether President-Elect Donald Trump will unite or divide the nation after he takes office next week.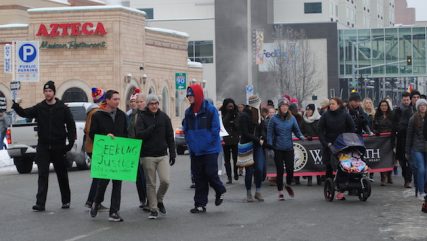 Julie Banks, a member of Origin Church, said she doesn't participate in the MLK rally and march every year, but felt called to partake this year to, "affirm the message of Christ."
That is, Banks said, to stand with the marginalized and fight for justice.
"I'm delighted to be here," she said. "And I'm looking forward to seeing what else we can do throughout the year to keep the message alive."
Support local religion reporting by making a tax-deductible donation today!