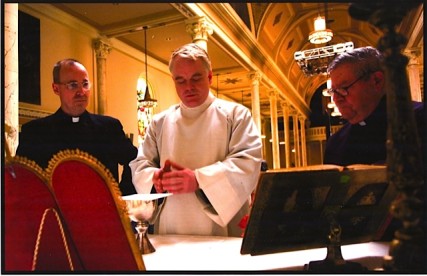 Broadway marquees went dark for a minute Wednesday night in honor of actor Philip Seymour Hoffman, who died this week at 46, apparently of a heroin overdose. At the same time, newspaper accounts are exploring the dark side of drug addiction and its terrible toll on Hoffman, and on his longtime companion, Mimi O'Donnell, and their three children.
And flowers are piling up in front of the apartment in the West Village neighborhood where Hoffman was a regular, another New Yorker going about life.
But amid these expected secular reckonings with tragedy is an unusually traditional religious ritual — a Catholic funeral for Hoffman set for Friday at the Church of St. Ignatius Loyola on Manhattan's Upper East Side.
Church sources say up to 300 people will attend the private Mass, many of them boldface names as well as friends and family and the many theater and film friends Hoffman made during his sterling career.
So why a Catholic service? And why there?
Yes, PSH was raised Catholic by his parents but rather indifferently, it seems. And church didn't exactly light a fire:
"Those Masses really turned me off," he told the Rev. James Martin, a Jesuit friend. "Lots of rote repetition, pretty boring and sometimes really brutal."
But Hoffman still described himself as a "believer," and said he prayed from time to time — and he had a profound fascination with Christianity that was both personal and artistic. He defended Christians against the biases of Hollywood and political liberals ("It pisses me off that there is this knee-jerk reaction against them!") and to hear him talk about the drama of the Gospels was to hear someone who was intensely engaged and moved.
At one point, in fact, one of his sisters became an evangelical Christian and Hoffman happily accompanied her when she invited him to meetings with her friends:
"There was something that was so heartfelt and emotional … Nothing about it felt crazy at all. And my sister was certainly the sanest person you could ever meet. It all felt very real, very guttural, even rebellious."
Read full post here.