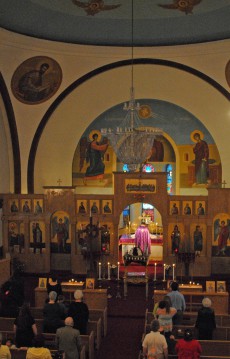 Rev. Stephen Supica took an icon of Jesus off the cross and tenderly wrapped it in white linen on Holy Friday as his church reflected on the trial and crucifixion of its Lord.
The Greek Orthodox Church has been celebrating Holy Week this week. Per tradition, at the Good Friday Vesper service Jesus is taken off the cross and an Epitaphios (embroidered cloth icon) of him is carried through the sanctuary, like a funeral procession.
Supica, of Holy Trinity Greek Orthodox Church, said the visual is an intense way of remembering the sacrifice Jesus made for his people.
"How much does the Lord Jesus Christ Love his father?" Supica said as he held out his arms, "This much. As we take the body of our Lord down from the cross…lay it in the tomb our Lord rests in the true body, but the soul descends all the way to Hell to set free all those who have been held captive by death. He took on human nature, walked among us, died for us on the cross, raises us with himself from the dead, because he loves us this much."
Besides the homily, the service is chanted.
Rev. Gregory Roth, a retired military chaplain, said the Orthodox church sings because the message of God is exultant.
"We sing when we're happy, when we're joyful," he said.
Although Friday's service was solemn, the weekend is blissful as it concludes on Easter Sunday with the resurrection of Jesus.
Tonight the church will hold a Resurrection Service at midnight and on Sunday Agape Vespers (the Vespers of Love on Easter morning) will be at 11 a.m.