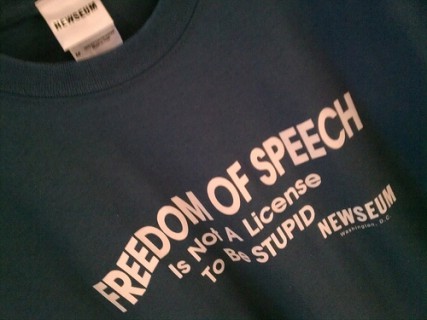 I appreciated Zainab Abdualjaleel's article, "This attitude is not part of Islam….just like the movie should not represent Christianity", about protests in the Islamic world arising from an internet video lambasting Muhammad and Islam. Her article, and comments, are well worth reading.
As an American, I think we take our freedom of speech for granted. We like to imagine that we are free to say whatever we please and take no regard for the hurt or consequences our words and art can have. When we are confronted by anger or hurt over what we say, we tend to dismiss it as overreaction or dig ourselves deeper into a hole of pride.
The Islamic establishment has made it very clear that no violence should occur because of depictions of the prophet. But they have made no apologies for the public display of anger. Rightly so. Is it not just a little hypocritical on our part to dismiss expressions of anger over hurtful words and art?
As our tools of communication become better, faster, and more accessible, I would argue that our speech and discourse has taken a dramatic decline. Phenomena such as social media bullying, hateful speech, and trolling are commonplace in Internet forums. We've seen recently in the news how political campaigns need to be wary that what they say in public matches with what they say in private, and we've seen those campaigns flounder as they try to avoid taking responsibility for words said behind closed doors.
Imagine how our communication and mutual understanding would improve if we take care in what we say, and we are firmer in ascribing responsibility. Should any freedom of expression be illegal? Some already is — yelling "fire" in a crowded theater is one example of illegal speech. We have done little, if anything, to show that movies like "Innocence of Muslims" is something we don't approve of, and don't wish to see made. Perhaps if we were more proactive as a culture in showing restraint and good manners, videos such as "Innocence of Muslims" would not see anger directed at us, but at the individuals who are failing to live up to the responsibility that comes in equal measure with the freedom they're given.