Later this month Gonzaga will have a public lecture on the perceptions of Islam.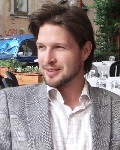 Jonathan Brown, the Alwaleed bin Talal Chair of Islamic Civilization in the School of Foreign Service at Georgetown University, will discuss, "Why Shouldn't I Think There's a Problem with Islam?" at 5 p.m., Monday, Jan. 30 at Gonzaga University's Hemmingson Center Ballroom.
According to a press release, Brown will address contemporary perceptions of Islam by some observers, arising in part from global news coverage, that Islam is somehow inherently violent. He will also speak to how others, including the majority of Muslims, believe Islam is misunderstood by radical groups.
"Brown will offer suggestions for how people might approach these conflicting opinions and questions, and touch on the implications of people's beliefs regarding the traditions different from their own," according to the press release.
The lecture is part of the Gonzaga religious studies department's Being Religious Interreligiously Lecture Series, which aims to promote interreligious dialogue and foster understanding between different religions.