Family-Friendly Protest for Ceasefire in Gaza Gives Children Agency to Challenge Injustice

News Story by Noah Apprill-Sokol | FāVS News
Seven-year-old Gail Ruzicka participated in her first-ever protest on Sunday afternoon, joining in a national family day of action to call for a ceasefire.
Gail is a first grade student at Spokane Public Montessori, where she enjoys finger knitting and coloring for school. However, for this protest, she picked up her makers once again, drawing two multi-colored posters that said "peace."
"I've heard that 10,000 people so far have been killed and of that number 4,000 are children," said Emma Bently Ruzicka, Gail's mother, who helped her daughter organize the protest. "I think we know that this is impacting families and kids, and it's really important for kids to stand up and protest against that."
Emma Ruzicka, who believed she could not bring Gail to other protests this past week, said it was important to have a family-friendly space to protest. The protest took place in Grant Park on Sunday and intended to give families an opportunity to come together in a safe environment to call for a ceasefire.  
Emma and Gail Ruzicka teamed up with Claire Barnard and her daughter Nina Hoang to organize the protest. Barnard led people in chants and songs, including one to the kids tune of "The Wheels on the Bus," in addition to ushering the group along Perry Street.
"I've been pretty crushed by what I'm seeing, and I think that children's rights are not being accounted for at this time," Barnard said. "I've often felt like the adults that are our leaders have lost touch with what it's like to be a child and not have any power or agency."
From Despair to Hope
The rally comes after a series of protests this week across the country and in Spokane, including those downtown on Saturday and Monday last week and those on Thursday at the Office of Representative Cathy McMorris Rodgers and Gonzaga University campus.
These protests have all called for a ceasefire in the Palestinian and Israeli conflict and have condemned the attacks by the Israeli state government that have killed over 10,000 people, according to the Ministry of Health in Ramallah.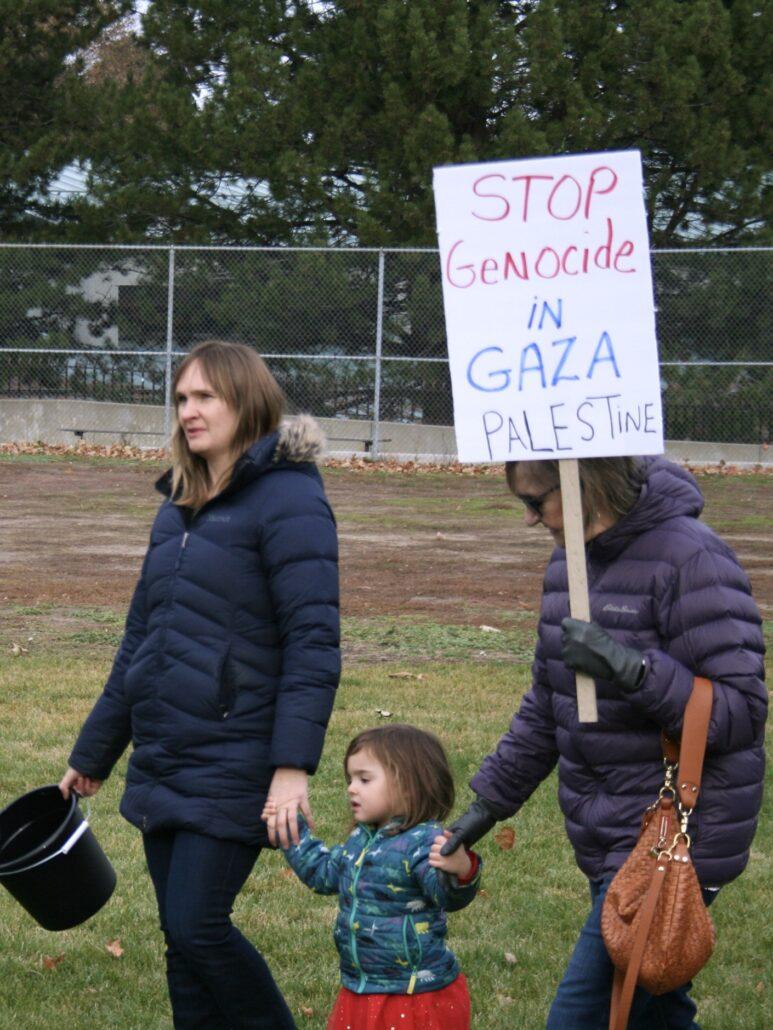 Barnard said that the protests give her hope and an outlet to grieve as a community, and Emma Ruzicka said this rally was valuable for parents with kids who often do not have an opportunity to engage in political activism.
"It just made me feel less alone in the pain that we're all holding right now in our hearts because of what we're seeing day in and day out," Barnard said. "I also have been on a personal level, struggling to function on a day-to-day basis. Having stuff like this helps me feel like I can function because it's cathartic. It's a space to grieve."
Emma Ruzicka said it was a teaching moment for Gail, who she believes can learn to be hopeful by recognizing her own agency to challenge injustice.
It's so easy to slip into despair, and doing things like this are, for me, a way of maintaining hope amid the despair, and so I hope to pass that on to Gail, of like, 'you can take action in your own small way.' "
A Children-Centered Movement
The protest drew a group of parents, children and grandparents, with the goal of centering children at the forefront of the rally. Alexis Smith, a mother of a 15-year-old son, said it is important that people think about children during this movement.
"I think that we should be living for the next generations right now," Smith said. "There's a lot of greed in the United States, in particular, in the Global North is very much living for the now and it's living for enriching only a small percentage of people. The next generations are going to have to suffer with the consequences and this war is just another example of how extractive our country is of other peoples around the world."
While it may feel like there is little control on the negative effects of the world's current actions, these parents have recognized that actions can be taken, Barnard said. She hoped this protest would be a teaching moment of children realizing their agency. Protest is empowering these children, she said.
"I want to teach them civic engagement," Barnard said. "I want to teach them that diversity is incredibly important and that it doesn't matter what you look like. We have to fight for people who don't have a voice, especially growing up in a place like Spokane. I just want to teach them that we have to put others above ourselves sometimes."