By Emily Geddes
Do you have a question about the Church of Jesus Christ of Latter-day Saints? Submit it online or fill out the form below.
What are your Sunday worship services like?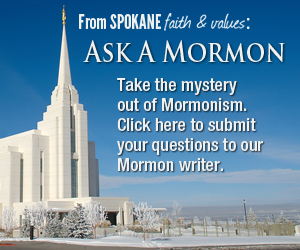 Latter-day Saints gather to worship every Sunday for about three hours. While there are some slight variations in the schedule depending on the location, the first hour and 10 minutes is generally sacrament meeting, during which all ages worship together. The central feature is the sacrament, a weekly blessing of bread and water, representing the body and blood of Christ, which is then passed to the ward (congregation).
After the sacrament, two or three members of the ward, including youth as young as 12, are assigned a few weeks ahead of time to give short sermons or talks on doctrinal or scriptural topics. The meeting opens and closes with a hymn and a prayer, and there are often announcements at the beginning and musical numbers in the middle, too. Having been to several other Christian denominations' services, I'd venture to say it'd probably seem fairly familiar to most visitors, who are of course always welcome.
Once a month, usually on the first Sunday, rather than having assigned speakers after the sacrament, any member of the congregation can share his or her testimony, a brief statement of that person's heartfelt personal beliefs about God, Christ, the scriptures, or a Gospel principle that has been meaningful for him or her. This is called "fast and testimony meeting" because it's held in conjunction with a 24-hour fast and the donation of fast offerings to help those in need.
After sacrament meeting, we divide into classes by age: primary for children 18 months to 12 years, youth Sunday school for 12- to 18-year-olds, and adult Sunday school classes for the rest of us. For the last 50 minutes we rearrange a bit, with all of the adult women meeting together in relief society and the young women (12-18) gathering for young women. The men rearrange similarly, while the primary children come together for singing and sharing time.
Twice a year, the first weekends of April and October, General Conference takes the place of our regular meetings. A combined total of about 12 hours of sermons from church leaders (including the General Women's Session the weekend before) are broadcast from Salt Lake City and are available to watch online at lds.org. We also have two stake conferences each year when the eight or so wards (congregations) that make up a stake (similar to a diocese) gather together to hear from our local leaders.