Sravasti Abbey Celebrates 20 Years
Please consider donating to the FāVS Fund for Social Justice Reporting
News Story by Cindy Hval | FāVS News
More than 7,000 miles separate Sravasti, India, from Newport, Washington.
Yet nestled on 370 acres of sprawling forested property in Eastern Washington, a flourishing monastic community shares its name with the city in India.
Celebrating its 20th year, Sravasti Abbey, has evolved from one nun and two cats, into a community of 24 monastics dedicated to learning and practicing Buddha's ancient teachings.
The beginning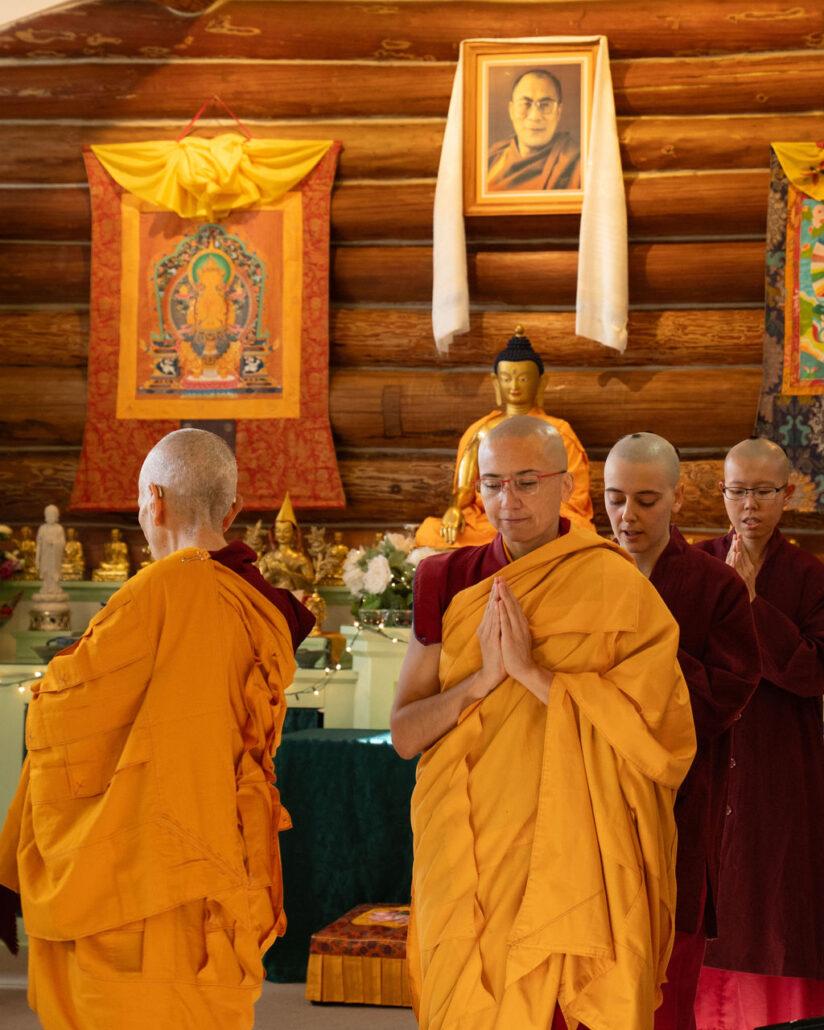 The Abbey's founder, author, teacher and fully-ordained nun Venerable Thubten Chodron, grew up in Southern California. Like many young people, she wondered about the purpose and meaning of life.
"I couldn't find answers in the religions I explored," she recalled.
While doing graduate work in education and working in Los Angeles public schools, she saw a flier about some Buddhist talks and retreats. Intrigued, she attended.
"They didn't say, 'We have the truth with a capital T,'" said Chodron. "They said you're intelligent people. Think about what we say — if it works for you good, if it doesn't, put it aside."
For Chodron, it worked.
"Buddhism answered a lot of my existential questions. It gave me methods to direct my mind in a way that was virtuous and beneficial for myself and other people."
She wanted to help others discover those methods and meditations. Chodron received novice ordination from Kyabje Ling Rinpoche in 1977 and full ordination in Taiwan in 1986.
The monastery
After teaching in Seattle and other places, Chodron came to Boise and began looking at property to build a monastery. Nothing seemed suitable.
"I wanted a place with a good view — with forest and nature. When you're doing a lot of spiritual work and meditation, you need to be able to look at long distances and be with nature to relax the mind."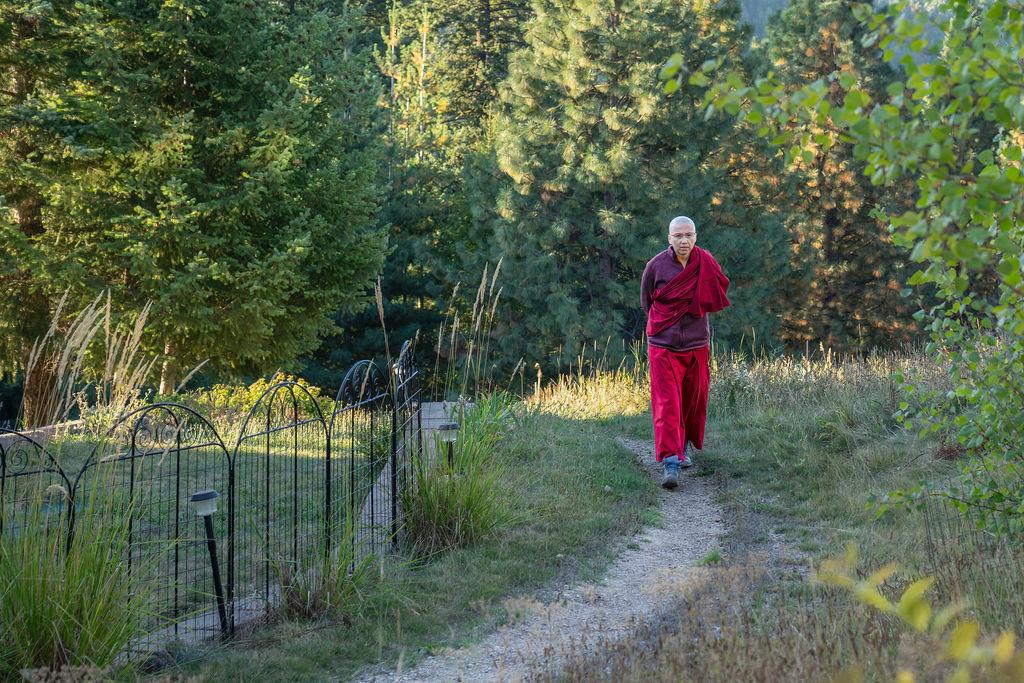 Then friends in Cataldo told her about a place for sale near Newport, Washington. She looked at it online and saw a beautiful home with lots of windows.
"It was perfect for what we wanted, and the previous owner carried the mortgage, which allowed us to purchase the property," she said.
In 2003, she founded Sravasti Abbey. His Holiness the Dalai Lama gave the Abbey its name.
"I asked His Holiness the Dalai Lama to name the Abbey," Chodron said. "During the Buddha's time, communities of both nuns and monks resided at Sravasti. I wanted the Abbey to be a place where the pure Buddha's teachings were abundantly available to both female and male monastics, 'Sravasti' seemed auspicious."
20 years of growth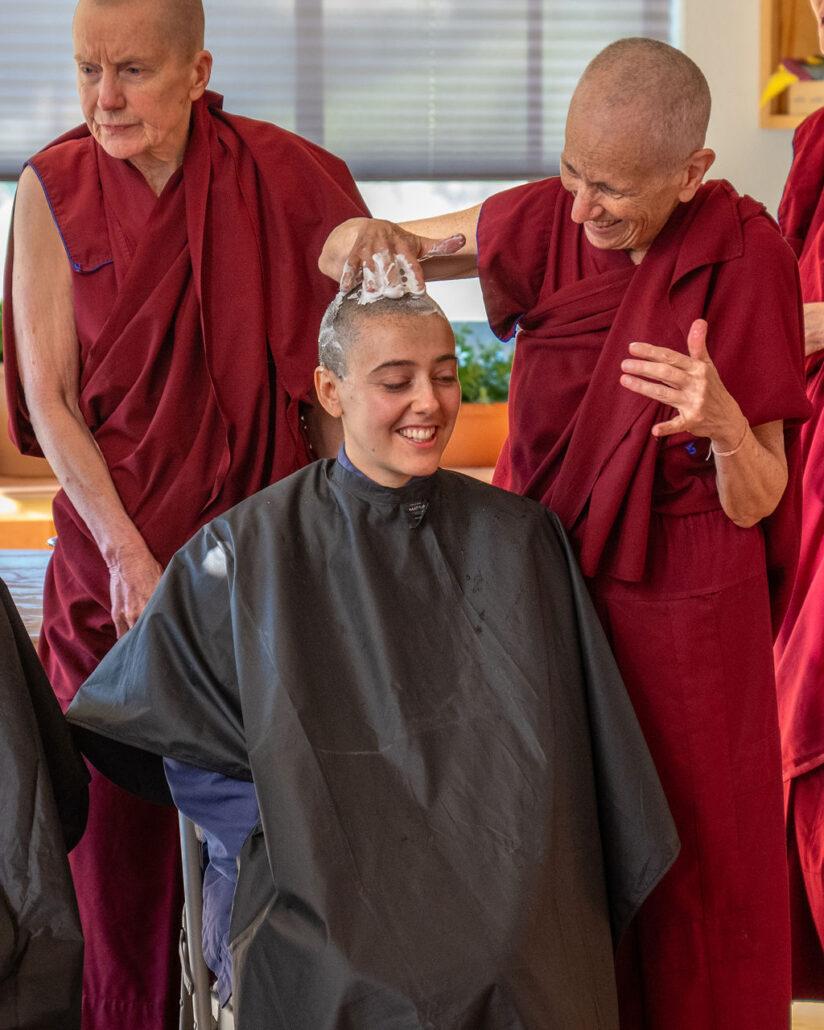 Unlike Dharma Centers, which cater to lay people, the Abbey is focused on training monastics to equip them to go out and teach in society.
Chodron said Buddhism has a whole system of teachings that when practiced in meditation, work to help calm our minds and help us take delight in benefiting others.
"As we started to grow, more people came to hear the teachings, and a few of my old students from Seattle wanted to be ordained," she said. "As we grew, we had to build more buildings."
Guests are also welcome to stay at the Abbey to experience what monastic life is like. Caring for the forested property, working in the gardens, teachings and meditation are all part of that life.
"There's a way to live your life so that you're not so dependent on outside things for your internal happiness and well-being," Chodron explained.
Looking forward
Currently, at Sravasti Abbey, a 17,000 square foot Buddha Hall is under construction. It will contain a library, a couple of meditation halls and a dedication hall for special offerings or meditations.
"It's huge," said Chodron. "But we'll be able to do a lot more."
Thousands of guests have visited the monastery over the years, and they're eager to welcome more. The public is invited to attend the upcoming 20th anniversary celebration of Sravasti Abbey.
"Come and celebrate what we've been able to do as a community," said Chodron.