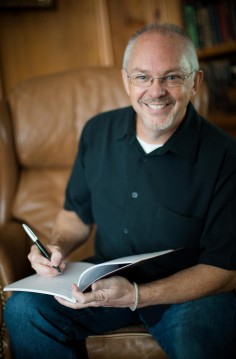 William P. Young, author of the "The Shack," said his Christian novel became a bestseller because everyone, in some way, can relate to loss.
The 2007 book is about a father who wrestles with the abduction, and possible murder, of his daughter. He finds a note, seemingly from God, inviting him to a shack where evidence of the crime was found. It's a story about the enduring question —Where is God in a world filled with such pain?
At 7:30 p.m. Friday at Eastpoint Church, 15303 E. Sprague Ave., Young will continue the conversation he started in "The Shack" with a presentation of "Where's God When…"
He'll be joined on stage with Spokanite Cami Bradley, who was a finalist on America's Got Talent, and Christian author and producer Jim Henderson.
During the program Young will share his personal story of loss, brokenness and surrender.
He'll recount how he experienced loss as a child when he was sexually abused as a missionary kid in New Guinea. He was abused again when he was sent back home to a Christian boarding school in Canada.
"There's nothing quite like sexual abuse that lifts the fabric of the human soul apart," he said. "We try to protect ourselves and stay safe. We hide stuff, and that's where the shack becomes the metaphor."
He'll also talk about the things he broke — and tried to hide — as a husband, which includes a brief affair he had on his wife, Kim.
Together they have six children.
Young said those experiences taught him about forgiveness and letting go of his own brokenness.
He said over the years the question of healing the human soul seems to be surfacing more often.
"It tells you there's a shift going on," he said.
He said that's partly because of the Internet and increased global communication.
"We can't keep everything tightly controlled inside our borders, so the conversation has become much more human in terms of our experiences," Young said. "What really matters centers around humanity and what we have in common."
Part of that human experience, he said, is engaging in questions that matter. Questions like, "Where's God in this?"
Although he comes from an Evangelical background, Young said the presentation isn't necessarily aimed at Christians. It's a human conversation, he said.
"It's going to be a broad celebration of our humanity inside the conversation of loss and faith, without having a hook," he said. "We will have an invitation, but not a religious one, one to the healing process."
Young said the community has a multitude of resources for residents struggling with various types loss.
Pastor Kurt Bubna, of Eastpoint, said the event is about connecting with people.
"Love is what this event is about," he said. "We're thrilled to host and get people to hear a great story from a great guy."
Tickets, which are limited, are $12.50 or $18 at the door. Pre-sale tickets can be purchased online at www.wheresgod.org.
(Bubna is a SpokaneFAVS writer)