Last week, I attended Rick Santorum's rally in Spokane Valley as one of a few protestors, a mixed group of Occupy Spokane and local clergy standing up for liberal, pro-humanity values.
This article is partially a critique of Santorum, but I'd like to use his values as a springboard to talk about what values would be better than Santorum's, and the conservative right in general.
At the rally, Santorum offered a philosophical dead end that decried science, education, climate change and values that affirm freedom and enfranchisement of all Americans regardless of gender, creed or income status. In other venues he has called for an end to the separation of church and state, an end to contraception and a hostile stance against the Middle East. He has even spoken against couples enjoying sex for more than procreation. Santorum, deeply committed to his own faith, may be one of the most extreme in his views, but he is certainly not alone.
As a liberal Christian, I think Christian values can contribute greatly to informing and shaping a better society for everyone, without succumbing to the compulsion to dominate and dictate. I believe it is an opportunity and a calling to a new generation of Christian leaders.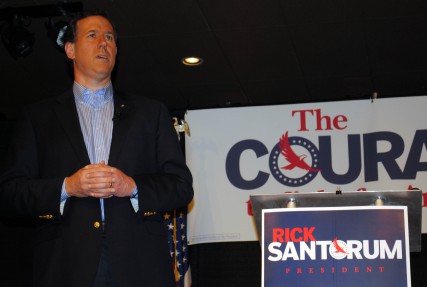 The tide is already turning, of course, and the conservative "establishment" is painfully aware of it. I believe the vicious return of culture warriors is partially due to the fact that the establishment was not successful in passing its values to the youngest generations, and is fighting a last-resort war, which will be followed by their long, slow decline. Younger generations of America need a plan in place as the cultural shift nears completion.
I invite you to consider my proposals for some of the values that characterize good society.
We will be social. Not as in socialism, but as in social life. In contrast to the "each man is his castle" ideals of libertarians and the GOP presidential candidates, we need to relearn that the only sources of happiness are others. Science shows the only true, lasting happiness comes from a state of connectedness and community with others — not money or material goods. Infrastructural changes such as demolishing sparsely populated areas of urban and (increasingly) suburban blight and rebuilding them into denser areas with integrated areas of local business and local food production would help people not only psychologically and economically, but environmentally as well. The challenges to overcome are the fear of each other that has been instilled into us for the last half a century; and the fear of "dangerous" ideas. In America, we have given up dense, urban housing and communities for spread-out, walled off enclaves. We have given up dialectal discourse for intellectual echo chambers. Let's get back to a healthy village life, even if only because it makes us happier and more tolerant.
Our foreign policy will be development, not war. Like many others on the right, Santorum has called for war on Iran, and promoted the idea we are, as a nation, more in danger of foreign threats than ever before. This is simply an egregious factual error. We are actually in a more peaceful time than ever before. Our foreign policy needs to change — and fast — to accommodate this new reality. We simply do not need large, expensive power projection anymore. Let's spend the money developing resources that advance trade, education and infrastructure such as sewers, banking and clean food and water. This will make us safer. In the words of Jesus, those who live by the sword shall die by the sword. Let's spend that $700 billion military budget on something more life-affirming and productive.
We will value education as a currency, and a healthy habitat as wealth. Santorum, Sarah Palin and others on the extreme right have publicly decried education as some sort of corrupting influence on our populace. Quite to the contrary, education is the one thing of value that can never be taken from someone who has it. Education not only affords a better living to individuals, it drives a sustainable, innovative and agile economy. Education also helps to inoculate people against charlatans and demagogues (perhaps why Santorum is so outspoken against it). Think of what life would be like if the uneducated were considered "poor" and the educated considered "wealthy"? With nothing but knowledge to impart, how easy would it be to advance one's own "wealth portfolio"? Education is not the only "alternative wealth" we have. Clean air and water, green places and a healthy climate are also valuable to us, and we are rapidly losing them. Christians should reclaim the value of caring for creation, not exploiting it.
We will uphold healthy sexual norms. Folks, it's time for this. The recent debate over whether contraception should be available to all women, and the resultant "slut shaming" (or, shaming of all women) by the likes of Rush Limbaugh, has highlighted a long-standing injustice. Christians have sadly promulgated much of it. In the good society, sex is a part of life, to be enjoyed and celebrated in healthy, loving relationships. This isn't to imply the necessity of sex only in marriage, heterosexuality, and sex for the sole purpose of procreation. Those values demonstrate their impracticality by the simple fact that so few practice them. Sex is a biological need, as much as hunger, thirst, shelter and activity. It's not really an optional thing, and in striving to encourage overall health in our citizens, we need to allow consenting adults to live out their sexual lives in dignity and respect. This includes allowing homosexuals to enjoy the same marriage rights as straight couples. All human behavior can be subject to pathologies and sex is no exception. But it is time to treat the pathologies and problems with science, compassion, experi and understanding instead of shame and taboo.
We will remember that Earth does not exist for the shareholders. Perhaps this is the most important item on this list. God did not create the world so that the rich may profiteer from its abundance (in fact, Jesus said the rich will have a hard time in the kingdom of heaven.) We are alive on this planet so that we may be happy. Not happy from material things — happy because of experiences, sharing and connections to others. If we look at things this way, money and material goods serve their purpose but are not the overwhelming goal of all existence.