Native Game Designer from CDA Tribe Incorporates His Culture and Computer Skills into Art
Contributions from FāVS from readers like you make this news story possible. Thank you.
News Story by Matthew Kincanon
Randall Schleufer, an artist and citizen of the Coeur d'Alene Tribe, has not only been creating art that reflects his Indigenous heritage, but he's also been designing video games since he was young.
Computers weren't a common household appliance when Schleufer was growing up. Cell phones and the internet weren't common in the 1980s either. Still, he got into video games through playing Pong on the Atari console as a kid and wanted to develop games.
Becoming a Game Developer Had Its Challenges
However, he said there was not a path to directly become a game developer because classes didn't exist.
When he was 15-years-old, he bought his first computer and started programming his first games.
"They were really bad games, they weren't good at all," he said laughing about it. "But it was my start."
When he got into college at Spokane Falls Community Collge, there was still no way of teaching video games because he said computer science wasn't really a subject. So he went into graphic design, instead, and learned design for print media.
Once the internet arrived on the scene, Schluefer said it opened up more opportunities for him. He used his graphic design skills to start making webpages.
"Once I was developing [webpages] I was like 'I remember doing video games, I can probably program some video games'," he said. "So I messed around with some code with some really old games and started making new graphics for them and swapping things out. That's how I kind of learned, myself, how to become a game developer."
His dedication to game development eventually led him to working on games for Nickelodeon, Disney and Niantic (the company who developed Pokemon GO). He has been working with Niantic for around five years.
Translating Game-Designing Skills and Indigenous Heritage into Art
Schleufer continues to create art projects that incorporate his Indigenous heritage and culture while using his skills gained from working with video games.
One of his recent projects was the mural he painted at Gonzaga Family Haven, titled "The Language Wall." It features several different animals including a buffalo, horse, dog, fish, turtle and others.
The inspiration for the mural stemmed from what Randall was taught during his first year at the Salish School of Spokane. He recently became a Salish language teacher himself.
"So the entire wall is basically just all different animals that we usually learn in our first year of language in the Salish program," he said.
The Mural's Beginnings
The project started after Gonzaga Family Haven wanted to incorporate Indigenous influence into the building and asked the Salish School of Spokane to translate some of the signs in and around the building. This included the exit signs and offices. The organization then asked for an artist to provide some artwork, which led to Schleufer meeting Peggy Haun-McEwen, director of community at the organization, in the Spring of 2021.
Both of them discussed for several months about what they wanted to create for the project and Schleufer got Native artists Emma Noyes (Confederated Tribes of the Colville Reservation), Danica Parkin (Sinixt) and Stef Reuben Marchand (Sinixt) involved to propose pieces along with his creation.
"As the project unfolded, it led to many deep conversations about the pain and relationship of the Catholic church and local Native residents," Haun-McEwen said. "It was something that moved me deeply, and Randall shared that the focus of the work is a theme of healing, which is perfect for this space for our residents."
The proposed mural was then moved from being part of the Reflection Space to taking over the entire wall of the Community room. This wall is now referred to as the "River Room" due to what Schleufer taught them about the importance of the river, she said.
"I just absolutely love this space, it's home to me," Schleufer said. "I come in here, and I feel so comfortable. It's just beautiful."
Eventually, there will be painted Salish words on the wall, Schleufer said, so people can try to read it.
Art with a QR Code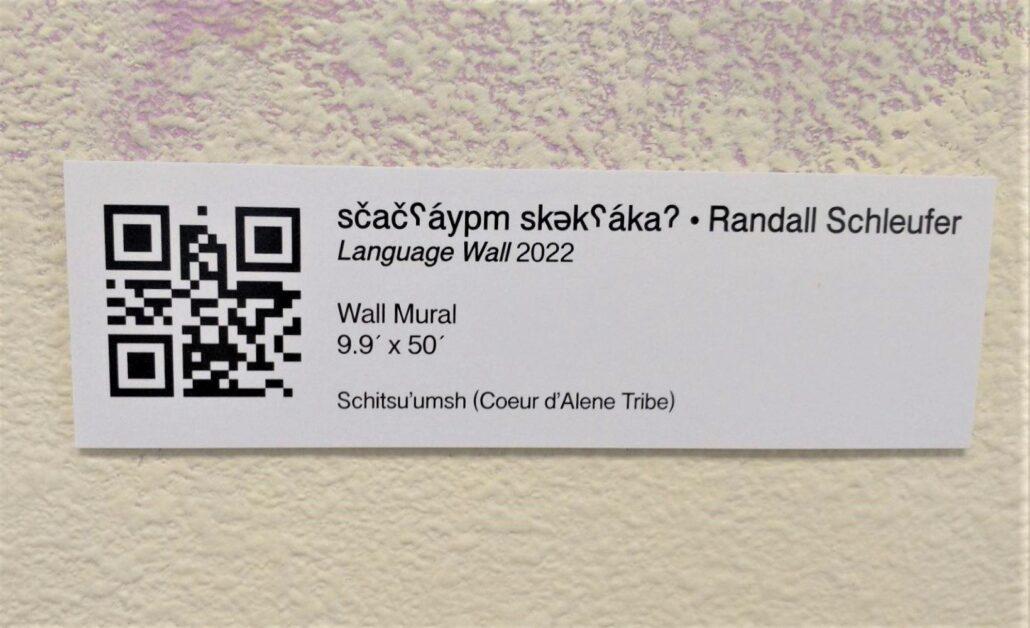 Schleufer incorporated his game development skills in a QR code that people can scan on their phones that shows them the images and says the Salish word for them.
"I love when our kids at Gonzaga Family Haven come in and we use the QR code, and I hear them repeating the words to the animals or the counting pictures on the wall," Haun-McEwen said. "The Salish School of Spokane (and Randall) are passionate about keeping the Salish language alive, and we have proof of that on our wall and it is a great conversation starter every time we have visitors to our site."
When people see the mural, Schleufer wants people to know that he and Indigenous people are still here and are still relevant.
'We're Still Here'
"We really are here with a presence in trying to honor our Native traditions, who we are, reconcile the loss of our language and culture and trying to regain that back, and what do we do with trying to teach our children these things," he said. "There's this whole huge thing about us that a lot of people don't know, and it really just boils down to we're still here, and we're trying to do everything we can to make sure that we stay here."
For Native youths who want to get into video game development, Schleufer said he would like to go to the reservations and speak with kids one-on-one about careers in video games.
His advice to them is to not worry about the details of making a perfect game. Just make a game; even if it's poorly made. He added that they should keep working on it. Start small and make a bunch of games that may not work, learning along the way, and this will build onto something bigger and better.