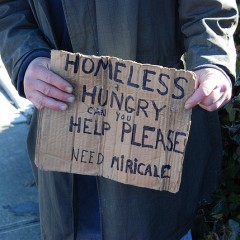 "Don't Give to Panhandlers," the signs will read. Around Spokane, billboards bearing this request will soon rise. It is an effort led by downtown businesses and local non-profits to curb handouts and increase gifts to charities and organizations that help folks in need.
But still I bristle at this message. I think of those who, for reasons of faith, choose to beg. I think of Jesus who walked with beggars and emptied himself of everything. And I think of those of us whose needs are not visible.
I need to be called out of my place of privilege. I need to be faced with the truth about poverty in the place I live, and I need to remember my part in that system.
Will this campaign help question the widening gap between wealthy and poor? Will this campaign advocate for good wages and health benefits for workers? Will this campaign address greed?
Let us give without holding back. Maybe not to those with signs on street corners; maybe so. But let us remember that God is the giver of everything under the sun, and may our generosity in God's name lead to justice.
[wp_paypal_payment]