FāVS Religion News Roundup: Oct. 5
This week's roundup shares news about gay men able to donate blood again, a fundraiser to combat the fentanyl crisis and a South Asian classical concert.
Please consider donating to the FāVS Fund for Social Justice Reporting
News Story by Tracy Simmons | FāVS News
Gay Men Can Now Donate Blood
This week The Spokesman-Review featured Grant Ogren, director of the Spokane AIDS Network, who was able to donate blood for the first time.
"A remnant of a 1980s policy amid the AIDS epidemic, gay men have been largely banned from donating blood since 1983 amid fear HIV, the underlying condition that causes AIDS, would find its way into banks' blood supply. It was not until May this year that the FDA fully lifted the 40-year ban," the article explained.
Now local blood banks are facing a blood-shortage crisis and are asking for all people — gay and straight — to donate.
There will be a blood drive Oct. 24 at Centennial Hotel (303 W. North River Drive) from 12 to 5 p.m., and Oct. 25 at Saint George's school (2929 W Waikiki Road) from 9 a.m. to 2 p.m.
Raising Money to Combat Fentanyl Crisis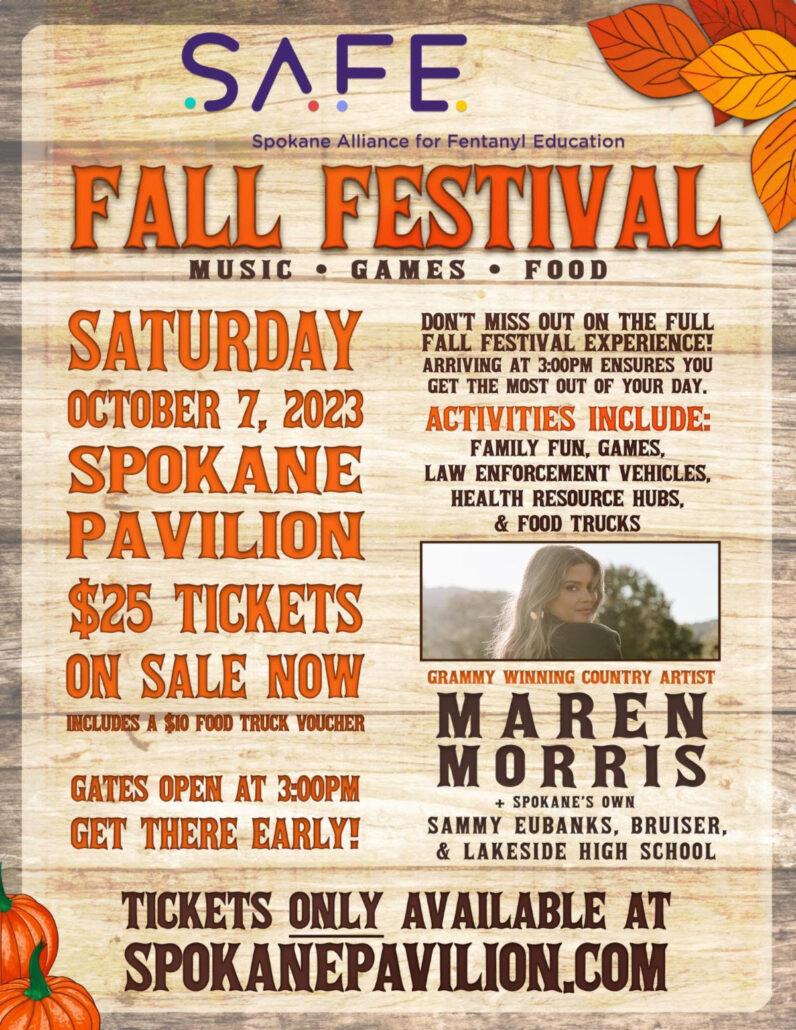 In an effort to raise awareness about the pressing issue of fentanyl and its consequences in the Spokane community the Spokane Alliance for Fentanyl Education (S.A.F.E.) will be hosting the S.A.F.E Fall Festival this weekend.
The event will take place Oct. 7 at the Spokane Pavilion and will feature artists including country music superstar Maren Morris, Spokane-based singer-songwriter Sammy Eubanks and other local musicians.
Attendees can expect an evening filled with family friendly music, yard games and the opportunity to learn about all of Spokane's resources related to addiction, prevention, treatment, recovery and support.
Tickets are $25. Each ticket holder will receive a $10 food voucher. Tickets are available for purchase at spokanepavilion.com.
Proceeds will go toward funding the foundation's initiatives, including educational programs and outreach efforts to end the tragic stories in our community.
Upcoming South Indian Classical Concert
Once again this year the South Asia Cultural Association will be bringing a South Indian Classical concert to the area. The five-person performance will be at 6:30 p.m., Oct. 14, at Unity Spiritual Center (2900 S. Bernard St.) in Spokane.
A vegetarian meal will be available for purchase beginning at 5:15 p.m.
Prior to the concert, at 7 p.m. on Oct. 13, there will be a workshop led by the musicians at Shadle Park Library (2111 W. Wellesley Ave.) where they will demonstrate their percussion and string instruments.
For more information and to reserve seats email [email protected] or call (509) 467-5558.